Paint Me a Princess Story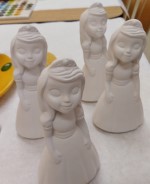 April Michelle Davis expressed her creativity through the outlet of writing her young adult book A Princess in Disguise. Color Me Mine located in the Short Pump Town Center Mall in Glen Allen, Virginia, brings out the creative side in children and even their parents. Put the two together on August 29, 2017, and you had April Michelle reading passages from her book as children painted their own version of Prince Margaret on the princess figurines.
Why I wrote about a princess:
When I was in middle school, I was fascinated with princesses. It was back then I began writing A Princess in Disguise. Since then, true to the theme of my book, I've married my own king, and we have two princes and a princess. Even though many years have passed, I've never stopped thinking about this book. I'm so thrilled that I can finally share it with other princes and princesses.