Mighty Miss: A Mississippi River Experience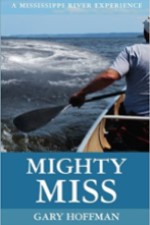 After hanging in mid-air for a split-second, our canoe drops hard. Immediate primal fears, heightened by expedition tensions and summer's heat, grip us. We are descending out of control and into the core of a forty-foot whirlpool. The bow bends as if to be ripped asunder. Did we cheat death on Winnie's six-foot waves in near freezing waters and survive terrifying games of chicken played by towboat operators only to go down in a peril equal to Dante's inner circle? Mighty Miss' edge-of-death experiences mingle with portraits of sandy beaches; a Robinson Crusoe island; magnificent sunrises; close-up encounters with loons making their evening call; slam dancing carp, lips pulsating to pass brethren mosh-pit style; and fishermen and faith-filled river people sharing intimate and uplifting stories. The ecstasy of nature's beauties and the excitement of survival make Mighty Miss a timeless and riveting Mississippi memoir.
April Michelle Davis was selected to complete the proofread of this manuscript, the last and very important editorial step immediately before publication. Her work is precise and detailed and entailed correcting the lingering mistakes before the book was printed. Every manuscript should be proofread by a professional proofreader such as April Michelle Davis!