Live for the Moment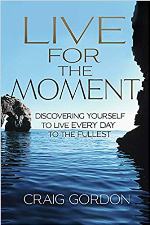 Live for the Moment is designed to bring positive, lasting results to your life. Energize your life and accomplish your dreams and goals. Gain insight into how you can get more out of your life. Replace your negative thoughts and attitudes with a whole new process of thinking. Learn skills and techniques to put yourself in a position for success. Are you stuck? Are you lost and not sure where you want to go? Could you use additional insight into ways of increasing your motivation, drive, and inspiration for life?
This book contains self-reflection and growth exercises. It will absolutely work for you if you desire to increase your drive for success and gain insight into thinking positively more frequently. Always remember: You have the power to control your destiny.
April Michelle Davis worked with the author to perform a substantive edit on this manuscript, going over every detail of the manuscript with a fine-tooth comb and preparing every word for the reader.