Leadership Development Basics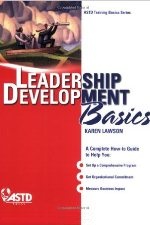 In the fast-paced, global environment of the 21st century, leadership development is a key business strategy―and a crucial element of your organization's competitive advantage. With Leadership Development Basics to help you, you can update your leadership development program and begin preparing tomorrow's leaders today. Whether you're in senior management or a member of the human resources, learning, or development professions, you'll find an integrated, comprehensive approach that can be tailored to your needs.
Learn about initiatives such as mentoring, coaching, job rotation, performance management, and succession planning, along with systems for establishing and evaluating your own unique program, which will help you cultivate an environment in which people thrive. Also, get techniques and tools that will help you design, develop, and implement a leadership development program appropriate to your organization's size, strategies, and resources.
April Michelle Davis copyedited this book and worked with the author to prepare it for publication. In addition, she inserted icons and other items so this manuscript would conform to the format of the client's series. April Michelle also wrote the index for this book.