Europe's Last Frontier?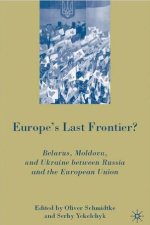 Three former western Soviet republics–Ukraine, Belarus, and Moldova–now find themselves torn between the European Union and the increasingly assertive Russia. This volume, Europe's Last Frontier?, examines the foreign and domestic policies of these states with an eye to the lasting legacy of Russian domination and the growing attraction of Europe.
April Michelle Davis edited this volume and prepared it for publication. April Michelle worked closely with her client to satisfy all the publisher's requests and ensure the book's consistency while maintaining the author's voice.