EI in CEN's Network News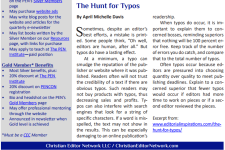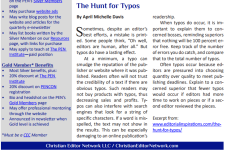 Typos can keep editors up at night because they know that just one too many missed typos and their reputation becomes tarnished. In the July 2017 edition of the Christian Editor Network's Network News, April Michelle Davis talks about the ramifications of typos, understanding typos, and how to catch them.
Excerpt:
"Sometimes, despite an editor's best efforts, a mistake is printed. Some people think, 'Oh well, editors are human, after all.' But typos do have a lasting effect.
"At a minimum, a typo can smudge the reputation of the publisher or website where it was published. Readers often will not trust the credibility of a text if there are obvious typos. Such readers may not buy products with typos, thus decreasing sales and profits. Typos can also interfere with search engines that look for a string of specific characters. If a word is misspelled, the text may not show in the results. This can be especially damaging to an online publication's readership."
April Michelle is a professional freelance editor who takes great pride in her work, but she is also realistic and sets proper expectations with her author and publisher clients. April Michelle has developed a process, which she uses to keep typos at a minimum with checkpoints as monitors: review each piece three times, each review focusing on particular errors and also looking for the errors that should have been corrected in a previous review. By continuously providing error-free work, April Michelle has earned the respect of professionals in her industry.