EI at Skyline Writers Circle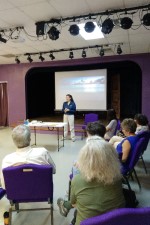 April Michelle Davis talked about the value of the first 1,000 words of a manuscript at the Skyline Writers Circle July 2018 meeting. April Michelle shared with the group the benefits and short falls in the very first words that make or break the manuscript before the publisher even gets to the second page. She explained the importance of a hook and action in the very beginning and read from a book the prelude, and the group quickly knew how the beginning was catchy, even if the book was not in their preferred genre, and the direction of the story, or so they thought.
If you would like to hear an excerpt of April Michelle's presentation, please visit Editorial Inspirations and scroll down to the presentations on writing. April Michelle is the author of A Princess in Disguise, A Guide for the Freelance Indexer, and Choosing an Editor: What You Need to Know.