EI at Hanover Book Festival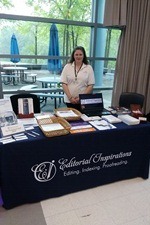 April Michelle Davis presented her workshop Working with an Editor: The Editorial Process at the Hanover Book Festival on April 22, 2017. April Michelle personalized the workshop on the spot to the participants' needs and received applause for adapting the material quickly and providing the information that the participants desired to know. In addition, addition, April Michelle met with each of the 30 authors who took part in the event and she had her own table setup with promotional materials for her editing.
April Michelle also featured her recently published chapter book A Princess in Disguise. April Michelle' book has received praises by parents for the wholesome content and the life lessons in her book. A Princess in Disguise is sold in hardback, paperback, and ebook and can be purchased through Barnes & Noble, Amazon, and your local bookstore. Autographed copies are available from April Michelle's website.