EI at Be a Better Freelancer Conference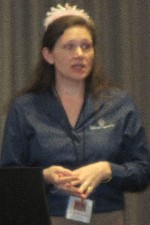 April Michelle Davis was invited back to speak at the annual Be a Better Freelancer Conference in Rochester, New York, on September 15, 2017. April Michelle talked on The Magic of Macros, which is how macros can enhance the work processes, and she was one of three experts on a panel discussing the necessity of using Word versus experiences learned from using Word.
April Michelle developed her course Macros 101 to aid editors and writers as they work on projects or format manuscripts. April Michelle shares firsthand that knowing how to use and build macros is a true skill that saves time, prevents errors, and is a money maker.
As a member of the panel and an expert in Word, April Michelle took the question that was asked by one editor and others also expressed their concerns of what to do when a new or potential client sends you an attachment. April Michelle acknowledged that this is a real concern because as an editor herself her computer is a main component of her profession and livelihood. So when April Michelle receives an attachment from a new or potential client, she creates a virtual machine and opens the document there. That way if the document is spam or a virus, it won't affect her main computer, and she can simply delete the virtual machine.
April Michelle has other best practices that she shares on Word in her course Macros 101.