Confederate Gold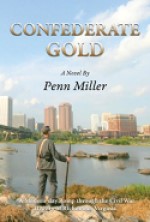 Confederate Gold is an action-packed comedy, taking a serious look at the American Civil War through the eyes of reenactors in the twenty-first century. This fun, funny novel is a raucous run, rampaging through Richmond, Virginia's Civil War history. In June 2011, a 150 years after the beginning of the American Civil War, reenactors find long-lost Confederate gold and a madcap chase ensues. The reenactors, eager to donate the gold to preserve Civil War battlefields, are pursued by a diverse array of adversaries, all having designs of their own for the gold. The race is on across Richmond's intriguing landscape of battlefields and historic sites as the characters embark upon a journey of history and heart.
Discover the charm of Virginia's capital city through this comic novel. Not since Midnight in the Garden of Good and Evil has a book promoted a modern Southern city with such exuberance. Penn Miller paints a picture of Richmond as a premier historic destination on the rise. The main character in this novel is the city itself, struggling with its past. As the capital of the Confederacy, Richmond was at the center of America's defining event, and the characters populating this story endeavor to come to peace with it.
Penn Miller grew up in Virginia's coal-mining region in the southern Appalachian Mountains. For the past thirty-five years, he has worked in downtown Richmond, discovering the city's historic haunts and hidden treasures.
April Michelle Davis spent the better part of two years working with the author to prepare this manuscript for publication.