Bold Strokes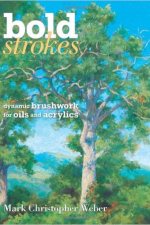 Imagine painting with the virtuosity of the masters. With Bold Strokes, you can learn how, step by step. Beloved artist and teacher Mark Christopher Weber takes this seemingly complex manner of painting and breaks it down into simple, manageable steps that you can apply to your own style. He starts with the very basics so you can achieve success no matter your skill level. Full-color photos and numbered steps illustrate in-depth instruction covering:
Tools and Materials: know everything you need from brushes to paint, including a section highlighting the advantages and disadvantages of both oils and acrylics
Brushwork Basics: learn the mechanics of shaping brushes, loading paint and applying strokes for loose and expressive brushwork
The Bold Challenge: use five basic strokes to manipulate thick paint and limit the number of overall strokes for heightened dramatic effect
April Michelle Davis proofread this book for the publisher. April Michelle's fresh approach to proofreading this book provided valuable feedback for the client, and she met the one-week deadline.