Bird Dogs Lightly Done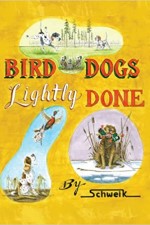 Local cartoonist Bob Schweikhardt's Bird Dogs Lightly Done is 108 pages of cartoons, quirks, and stories of hunting dogs and more. Back in the 1940s, a boy who liked to draw rode his bike down to the Gambles store, plunked down a hard-earned forty-seven cents, and bought a box of 16-gauge shotgun shells. He borrowed his older brother's English Setter (and his double barrel) and went bird hunting. He was hooked.
April Michelle Davis copyedited this manuscript, which is the last step in the editing process and the last time the manuscript will be reviewed before being laid out by the book designer. April Michelle's experience and skill at correcting grammatical and stylistic errors helped to professionally prepare this manuscript for printing, and they also reflect her credibility with the author, publisher, and future readers.