Beaverdam Family Fun Day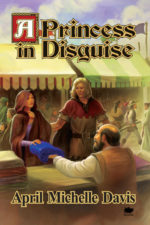 April Michelle Davis and her young adult book A Princess in Disguise were the featured author and book at the Beaverdam Family Fun Day on September 9, 2018.  April Michelle shared about her book with children and parents and captured their attention by instilling a part of the special message into the conversations. Many children listened intently waiting for April Michelle to tell them more about the book's characters and parents enthusiastically supported their children's desires by purchasing an autographed copy from April Michelle.
Book Synopsis:
On the night of her sixteenth birthday and before her father has the chance to force her to marry a complete stranger, Princess Margaret sneaks away from the riches and safety of the palace. Torn between her fate and freedom, Princess Margaret desperately goes looking for her mother as the answer. In a quest of soul searching and physical hardships, the twist of events may take the readers by surprise, instilling a piece of the story in their hearts.