April Michelle Davis at VWC Symposium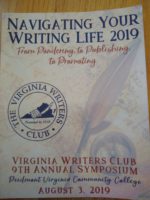 April Michelle Davis presented her workshop "Developing Streams of Income from Your Books" at the Virginia Writers Club 9th annual symposium in Charlottesville, Virginia, on August 3, 2019.
April Michelle is the executive director of the National Association of Independent Writers and Editors (NAIWE), which is an association that focuses on career building and developing multiple streams of income for its members by offering marketing opportunities and benefits through its resources.
April Michelle shared her twist on new and familiar insights, opening the eyes of the attendees to reach beyond the routine ways of promoting their books. The theme for the symposium was Navigating Your Writing Life from Pondering, to Publishing, to Promoting and April Michelle's workshop was on spot as it feed the hungry minds of the attendees with knowledge and ways to build on their finished product.