April Michelle Davis at #BBF2019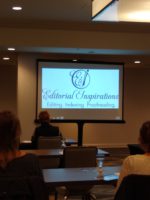 April Michelle Davis was at the 2019 Be a Better Freelancer conference!
Friday, October 11, the conference attendees were beginning to arrive, and April Michelle was there to greet them and welcome them to the day's activities.
Lunch was a time for networking, socializing, and eating! The round tables were filled with attendees in conversations with one another, reviewing notes from the previous sessions, and studying the upcoming sessions to make the difficult decisions of which ones to attend.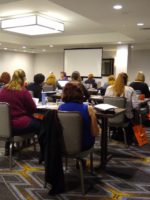 The excitement carried over into the two 2-hour sessions that were held after lunch. In the first conference room was a session on the business aspects of running a business. April Michelle Davis, NAIWE's executive director, spoke about setting up a business, purchasing a domain, and researching insurance options. Other topics that were covered included purchasing equipment, creating a work space, and developing a business plan. All that in just the first hour! The second hour consisted of handling business money and taxes, marketing, and maintaining business records.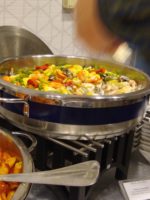 On day two of the Be a Better Freelancer conference, there were six sessions offered and each participant could select up to three sessions to attend. April Michelle Davis, executive director of the National Association of Writers and Editors (NAIWE) led her workshop, Working with Word/Acrobat.  April Michelle is also a professional freelance editor, proofreader, and indexer, and she is well aware that most of her clients submit their work in Microsoft Word. April Michelle's experiences have taught her that Word as well used as it is has functions that aid freelancers in publishing. In her workshop, April Michelle introduces features of Abode Acrobat and macros in Word and shows just how beneficial they are.