April Michelle Davis at Ashland Book Fair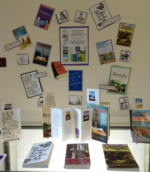 April Michelle Davis's young adult book A Princess in Disguise was at the Ashland Book Fair held at the Ashland Library, in Ashland, Virginia, on August 3, 2019. Local authors were invited to bring their work and share it with the library patrons.
April Michelle invited and encouraged the patrons who visited her table to listen to a passage from her book that she read to them and then to express on the coloring page that April Michelle designed especially for that passage what they envisioned from hearing the passage. Two young girls who visited April Michelle's table truly were guided by the passage that was read to the point that they were able to imagine the descriptions in the passage and express them in detail as they colored the picture.