A Princess at Blue Beer Cider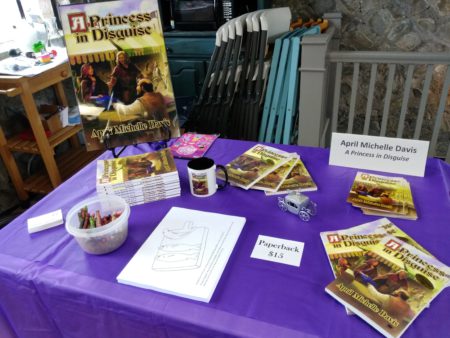 April Michelle Davis's young adult book A Princess in Disguise was featured along with other authors and their books at the Book Fair & Brunch held at Blue Bee Cider, Richmond, Virginia, on September 23, 2018. The patio setup with round tables and chairs offered an outdoor place to gather where food and drink could be purchased on the premise and enjoyed as April Michelle and other authors read excerpts from their books in between performances by musical groups playing.
April Michelle's book was selected for this event because it is easy reading for all ages yet the message it tells lingers in the minds of its readers and listeners.
Book Synopsis:
On the night of her sixteenth birthday and before her father has the chance to force her to marry a complete stranger, Princess Margaret sneaks away from the riches and safety of the palace. Torn between her fate and freedom, Princess Margaret desperately goes looking for her mother as the answer. In a quest of soul searching and physical hardships, the twist of events may take the readers by surprise, instilling a piece of the story in their hearts.